Primitive Americana Dresses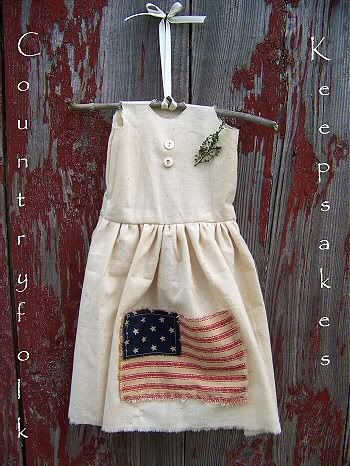 ~Made from faintly stained cotton with a folksy hand stitched American flag pocket.
~The flag is made from red ticking and a navy blue star print.
~A rusty safety pin/preserved Sweet Annie "brooch" adorns the bodice.
~It hangs sweetly on a stick and ribbon hanger.
~It's approx. 8" wide by 18" long. (from top of ribbon hanger to bottom of dress)


~The bodice is made from faintly stained navy blue ticking.
~The skirt is a navy blue star print.
~It also has a folksy hand stitched American flag pocket.
~The flag is made from red ticking and a navy blue star print.
~A rusty safety pin/preserved Sweet Annie "brooch" adorns the bodice.
~It hangs sweetly on a stick and ribbon hanger.
~It's approx. 8" wide by 18" long. (from top of ribbon hanger to bottom of dress)
$9.00 for blue ticking dress plus $3.00 for shipping.